Crazy4Crafts- Crafts and Art Projects
Fun Art Projects and Crafts for Kids and Family

MAY 31ST, 2006
Scrapbooking: Tips for Taking Photos
Scrapbooking: Tips for Taking Photos
Yes- you can add scrapbooking to my list of craft obsessions! I started scrapbooking about 5 years ago- In fact I was a Creative Memories scrapbooking consultant for 2 years. I know have thousands of photographs and thousands of dollars worth of scrapbooking supplies. If you are new to scrapbooking then congratulations- you have found a rewarding life time obsession, er, hobby.
I do have some tips I will share form time to time. The first are some idea for taking great photos. A great scrapbook starts with great pictures. The principle are the same with both digital and film prints. Kodak has some great tips for taking good pictures
Look your subject in the eye
Use a plain background
Use flash outdoors
Move in close
Move it from the middle
Lock the focus
Know your flash's range
Watch the light
Take some vertical pictures
Be a picture director
For in depth explanations- visit their site, Tips for Great Pictures
The best advice I ever got for taking great pictures of kids was to take shots up close- not to be far away. Its okay to just have a face in the frame- or a foot- or a chubby baby's hand. Also-its almost impossible to take a bad black and white picture.
I advise all my preganant friends- get a camera with some black and white film in it to take to the hospital. The picture of your newborn baby will look beautiful and you will be shocked at how good you will look in black and white just after giving birth.
New baby pictures in black and white look incredible in a scrapbook album- especially on black pages.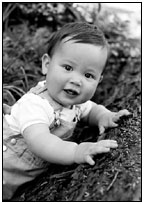 Related Pysanky Books:
How to make Ukrainian pysanky
More Books:
Pysanky in the 21st Century
Related Posts
Free Cross Stitch Kit from DMC Threads- Sign Up to be A Cross Stitch Mentor!
Plastic Lacing-Gimp-or Boondoggle – Scoubidou : Designs, Craft Ideas and Web Sites
Posted by Administrator as Scrapbooking and Stamping at 4:27 PM EDT
No Comments »
Login
Valid XHTML
XFN
WordPress