Crazy4Crafts- Crafts and Art Projects
Fun Art Projects and Crafts for Kids and Family

JUNE 9TH, 2006
Easy Gift Soaps- Decorate Soaps for Gift- Great Kids Craft
We have doe this a few times- results are great. This makes an especially good kids craft to do as a group. Transparent soap works best- we got a ton cheap at bulk store. Also white looks nice too- what they don't tell you in instructions is that you HAVE to get soap with no writing on indents on it- will really ruin the look.
The craft is from Familyfun.com. Found here: http://familyfun.go.com/arts-and-crafts/season/feature/famf117gift/famf117gift4.html
Basically you paint soap with an acrylic paint- use fairly good quality brushes to get any sort of detail. Wait for paint to dry and the brush melted clear wax over to protect. The wax really does work. We made soaps with our initials on and some funky colours for the bathroom. The who project took about an hour. "Painting" wax on soap I did- probably not best idea for younger kids to do. But thin coat of paraffin ( canning wax) works great- or an old white candle.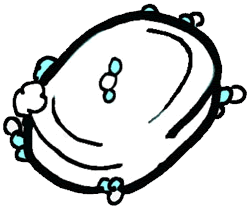 Related Posts
Free Cross Stitch Kit from DMC Threads- Sign Up to be A Cross Stitch Mentor!
Easy and fun craft to use up old crayons- Try making a Batik!
Plastic Lacing-Gimp-or Boondoggle – Scoubidou : Designs, Craft Ideas and Web Sites
Posted by Administrator as Holiday Crafts, Great Kids Craft Ideas, Crafts- General at 12:10 AM EDT
No Comments »
Login
Valid XHTML
XFN
WordPress