Crazy4Crafts- Crafts and Art Projects
Fun Art Projects and Crafts for Kids and Family

MAY 31ST, 2006
Scrapbooking: Tips for Taking Photos
Yes- you can add scrapbooking to my list of craft obsessions! I started scrapbooking about 5 years ago- In fact I was a Creative Memories scrapbooking consultant for 2 years. I know have thousands of photographs and thousands of dollars worth of scrapbooking supplies. If you are new to scrapbooking then congratulations- you have found a rewarding life time obsession, er, hobby.
I do have some tips I will share form time to time. The first are some idea for taking great photos. A great scrapbook starts with great pictures. The principle are the same with both digital and film prints. Kodak has some great tips for taking good pictures
Look your subject in the eye
Use a plain background
Use flash outdoors
Move in close
Move it from the middle
Lock the focus
Know your flash's range
Watch the light
Take some vertical pictures
Be a picture director
For in depth explanations- visit their site, Tips for Great Pictures
The best advice I ever got for taking great pictures of kids was to take shots up close- not to be far away. Its okay to just have a face in the frame- or a foot- or a chubby baby's hand. Also-its almost impossible to take a bad black and white picture.
I advise all my preganant friends- get a camera with some black and white film in it to take to the hospital. The picture of your newborn baby will look beautiful and you will be shocked at how good you will look in black and white just after giving birth.
New baby pictures in black and white look incredible in a scrapbook album- especially on black pages.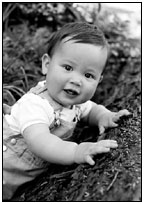 Related Posts
Free Cross Stitch Kit from DMC Threads- Sign Up to be A Cross Stitch Mentor!
Plastic Lacing-Gimp-or Boondoggle – Scoubidou : Designs, Craft Ideas and Web Sites
Posted by Administrator as Scrapbooking and Stamping at 4:27 PM EDT
No Comments »
---
MAY 9TH, 2006
Free Cross Stitch Kit from DMC Threads- Sign Up to be A Cross Stitch Mentor!
DMC Embroidery and Cross Stitching Threads is offering free kits to corss stitches- the idea is to share the skill with others and teach them to cross stitch. The offer is available in US or Canada. The kit is quite cute.
Click on link below to sign up.
Free Cross Stitch Kit- Become a Cross Stitch Mentor
Below is information fro their site about the kit
"As a DMC Mentor you'll help ensure the heart warming craft of cross-stitch thrives for another generation. You'll also enhance the lives of others and improve your own stitching skills while gaining fresh ideas, energy and enthusiasm from novice stitchers.
To help you get started, DMC has provided you with all the tools you'll need to share your passion for stitching. We'll immediately send you this FREE DMC Cross-Stitch Mentor Kit.
In this kit you'll find 4 mini cross-stitch starter kits that feature a beautiful floral design to be used for your first lesson. Your students will be so proud once they've completed this design. We've also included a Mentor Design Brochure that features nine additional projects exclusively designed by DMC for subsequent lessons. And a gift for you, you'll find your own DMC Mentor Pin to identify you as an official DMC Mentor. (Please allow 4-7 weeks for delivery.)
To help further guide you on your way to a fulfilling mentoring experience we've created a special membership access to the DMC Mentor Program. Here you'll find Tips on How to Mentor Effectively, new designs for additional lessons, a Graduation Certificate that helps you recognize the achievements of your mentor, and a Mentor Message Board where you can share your mentoring experience with other mentors. Visit the DMC Mentor Program web-page as often as you like to find the tools you need to share your love of cross-stitch.
We know that no matter how much joy cross-stitch has brought you over the years, there is more to come when you share it. "
Related Posts
Plastic Lacing-Gimp-or Boondoggle – Scoubidou : Designs, Craft Ideas and Web Sites
Posted by Administrator as Cross Stitching and Free Cross Stitch Patterns at 10:39 AM EDT
No Comments »
---
MAY 4TH, 2006
Paper Dolls- Download Free Paper Dolls Online
My daughter and I have rediscovered paper dolls! There are some great paper doll sites on the web, as well as lots of books. These are great for learning hand eye co-ordination in younger kids and terrific for developing creativity in older girls. My daughter, 9, spent about 4 hours tonight drawing with pencil crayons making intricate patterns with pencil crayons. We did similar with crayons when she was 5. My best friend- who is a bit wacky, I admit (for fun she belongs to a yahoo slide rule list- and does slide rule problem as a way of relaxing!) is nuts about paper dolls. She finds really obscure ones and spends hours cutting them out.
The most famous paper doll site on he web I believe is Marilee's Paper-dolls Page , Here you will something for everyone- I do find the page a bit difficult to navigate, however.
Here are some other fun sites:
Berenstain Bears Paper Dolls Good for younger children- in the 4-6 year old range.
Easter Paper Dolls A sweet bunny -just print and cut out this paper doll set.
Laura Ingall's Paper Doll
Rapunzel Paper Doll- Print and cut
Wood Nymph/Faery Paper Doll
Fairy Tale Witches Paper Doll
Vintage Look Paper dolls These are really cute! Sugar and Spice, and TONS more. Take a look at the huge variety of paper dolls here.
Animal Paper Doll Sets
Recommended Paper Doll Books



Related Posts
Ukrainian Easter Egg Decorating- or Pysanky
Posted by Administrator as Paper Dolls at 11:19 PM EDT
No Comments »
Login
Valid XHTML
XFN
WordPress